Two weeks ago I read an article about the Garmin 705 in my monthly cycling magazin Fiets. I got really enthousiastic and after a few days of contemplating I decided to get one. Wohoo! The day I received the Garmin was also the day I did my first ride, attaching the device to my bike was almost like plug and play. Click here to go to the Garmin website and see my ride (a relaxed D1 training with 3 short intervals of 3 minutes). Now after two weeks of playing with it I'm able to give a good review.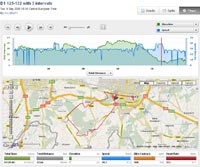 The device itself
It looks great. Mounting the device on my bike was easy and it looks very professional. You don't even have to calculate your wheel dimensions, it figures that out for you. I bought the special edition, the copper colored one. I think I prefer a black one because it's easier for the eye when you try to read the screen during a ride. So I was thinking of drawing some nice patterns on it using a black marker, and then it would be a unique special edition. The usb cable can be connected to the Garmin by loosenig a piece of rubber that protects the usb socket. This piece of rubber got lose from the Garmin after just two days, I don't like that and I bet that I will lose it soon during a ride. A little flaw in the design. The menu's on the Garmin are pretty intuitive, no problem for me, but there is room for some improvement.
There is lots of software that comes with the Garmin. I never used the cd, got all from internet so that I was sure that I got the latest versions. I updated the firmware of the device from v2.70 to v2.90, this went smoothly. I lost my first training though, Garmin warns you about this on their website just before installing, so be sure to upload all of your trainings before rebooting the device after the upgrade has been loaded. One of the advantages of v2.90 is that SD cards upto 8GB are supported. I got a 4GB and it works just fine.
Download Tracks
After playing for about two weeks with the device and the websites on which you can find and create tracks I'm finally getting the hang of it. Last weekend I wanted to cycle around Amsterdam and as I am not too familiar with this area this is where my Garmin should be very usefull. I started surfing on the web and I found a track that looked good. The problem with this website/track was that the tracking points were connected with straight lines, they did not follow the road. So I decided to draw the track myself. This worked fine and I uploaded it to my Garmin and the next day I had a wonderfull 105km ride in an area I did not know. I saw beautifull castles, rivers, bridges, windmills, polders and there were just a few traffic lights. Woot!
When you download large tracks (like from gpsies.com) , download them as GPX TRACK files and not as GPX ROUTE. The track follows the road, the route just makes point to point connections and doesn't follow the road. I'm still fighting with this now and then.
Create your own tracks
For creating my own tracks I use bikeroutetoaster.com or bikemap.net. You can set the speed of your virtual partner and that is fun. You can select your starting and end point and the track will be created for you, but sometimes it's smarter to create a route step by step because then you can be more precise. Roads that are not fit for cyclists are avoided and it's easy to adjust the route to your wishes. Longer rides with a lot of waypoints need to be filtered by other software like mapsource before you upload them to your Garmin.
If you download tracks from gps-tracks.nl and want to upload them into your Garmin 705, then you need to convert the GPX file to CRS (or TCX). For this you use the gpx2crs tool.
You can use Google maps to create a route and send the endpoint to your Garmin. For this (and also for the other websites) you first need to install the Garmin communication plugin and connect your Garmin. Then after creating the route in googlemaps you click in the upper right corner on 'Send to' and then you select the GPS tab.
100 Waypoints
When creating a track on a website you can set waypoints. The Garmin 705 can just show up to 100 waypoints, no more. For my 105km ride last weekend I did not use mapsource filter so my track contained over 100 waypoints. So after reaching waypoint 100 Garmin just did not show any waypoints anymore. I thought this would be a problem but it isn't. During my ride I found out I did not need the waypoints at all. I zoomed in on the map so that I could see the road ahead of me in just enough detail so I knew what was coming. Because of this I was able to keep my speed up and I never had to look at roadsigns.
Virtual Partner
The virtual partner is fun. When I downloaded the track to my Garmin the option was given to me to determine an average speed, so I set this to 29km per hour. Sunday morning I got on my bike in the center of Amsterdam and when I started the track my virtual friend immediately took off and got a headstart. Garmin shows the distance between you and you virtual partner. Once outside of Amsterdam I passes him and he could not hold my weel. When I finished the gap was around 7km and to congratulate me the Garmin played some tune that sounded like music from a game computer from the early 80's. It's fun and could be handy during a training when you want to test yourself.
Great device, but needs development
Let me first say that I like the device very much. The greatness is the combination of your speed/heart rate/cadans monitoring together with GPS in just one little box. The GPS gives me the oportunity of doing great rides in an area that is completely unknown to me, and I can still keep up the speed. It tells you where you are, points the way to a destination and gets you home.
The connection software in combination with the USB cable works great. It's easy to upload and download tracks and training sessions from and to the Garmin. Especially because the API software is used by the websites like bikeroutetoaster, bikenet and google.
There are some points that can be improved by Garmin. One thing I'm somewhat dissapointed about is the data review in the Trainingscenter software. I can not select a certain part of my training and zoom in on that. I miss that. The data on the Garmin website is presented in a very slick way but it is not detailed enough. It's hard to do an in depth analysis of my performance if I can just see samples every one to two minutes on the website. Bugger. I checked out the software from Trainingpeaks and this give lot of detailed information so I'm going to give this one a try. But it's not for free. Sporttracks is another software tool in which you can view your trainingprogress, but I didn't check it.
The Garmin can be a little more user friendly too, I'm sure that the next version will be improved. Further more I have the idea that the calories I burn during a ride are over exagerated by Garmin, 4805 calories on a 105km flat track with a speed averdage of 31km p/h is to much I think.
Not only Garmin can improve, also the websites that offer you tracks. Every website has it's advantage and disadvantage. This takes time to find out and few times this week I thought it would be better for me to ride my bike or to go to bed and sleep instead of trying to find out the best way of discovering existing and creating new tracks.
By the way, I used the Garmin in my car too to go to Abbeville in France, works great. Not as handy as a TomTom, but that's obvious. And when you are sitting comfortably in a train you can see the speed and current location on the map. Lot's of fun!
GPS websites for biking
Software